Any news on sec.patch updates? Im still on march for the s9.
i thought @iodysseus says that it was every 5th day of the month??
I have not seen any updates since I installed this Rom in the beginning of March. Anyone with a s9 who have got an update since March?
Hello @nax,
Hello @multaion,
on the 5th of each month, Android security patches are usually published by Google. These then have to be implented into the iodéROM. The GrapheneOS team does this the fastest on a permanent basis, and they are often quicker with the release than Google itself. LineageOS takes different amounts of time - often until the middle of the month. About 3-7 days later, LineageOS-for-microG and other ROM images release their updates. But it has also happened that the micrG team was faster than the LOS team.
By the way: There is currently no current build other than March 2021. Let's hope that this will change in the next few days
Thank you for the info. I'm a bit worried will iodè keep maintain future versions for samsung since lineage stopped it's support. It would be awesome to keep using iodè even tho I'm on Samsung phone. There are to few dev that are thinking about privacy and security.
from what you say, it should have been a release security in April, that has never been there ,and we will might be close to the one in May?
Yes, i'm still on february security patch and when looking on gitlab and their homepage nothing new have been uploaded since the beginning of March on any supported device.
You aren't taking into account the current 'official' update cycle of iodé.tech, which is 2-monthly for staff reasons.
Admins/devs any news on next update. Is it a problem that lineage has stopped to maintain samsung s9 devices?
Granted, this is a ROM/ service that is built by people not doing this for their living. However it still would be great to understand what the idea is in regards of this OS and the update policy.
The OS is still awesome though!
Hi!
We are actually starting to beta test our next update on our supported devices. The next release is planned for May no exact date yet.
Thanks
Although I understand that not everything can be done, I think it is very important that Iode has a guaranteed amount of years that the software is updated.
I'm talking here about updates from the moment of buying.
When you buy a smartphone since some years they have a guaranteed amount of years of updates.
These updates are from the date that the smartphone is introduced.
That means that that when the smartphone is introduced in January 2019 and has 3 years of guaranteed (security) updates, you have just one year of updates left.
When you bought this smartphone for 100 euro or 600 euro is a big difference in this case.
Because in my eyes, after that one year your phone is not safe, not secure any more.
You have to buy a new one.
I agree with @io_d s last phrase Iodé and security - #3 by io_d
That's why I would suggest to have a look at the update policy and the guarantee for updates.
The guaranteed time for updates can be different for each category of updates.
For example;
New features
New applications
Keeping actual apps running
Security updates for the operating system
Security updates for apps
….
The longer you can use your phone, the better it is for Mother Earth.
This guarantee is not easy to give. As you listed, there are many factors to take into account, some of them we can't really control.
We consider being able to give at least 1-year guarantee for all iodé phone models for sale in our shop.
When that guarantee can't be certain anymore for a given model, we will remove it from our shop while still trying to maintain it as long as we can.
Thank you Antoine.
Because I have no idea what it takes to update and the influences there are I'm still thinking about a way to improve the amount of time you can use a smartphone with Iode.
Here's a little brainstorm.
Does it help to choose a smartphone which has been given a guaranteed amount of time for updates but that runs on an other Operating System?
And ofcourse I mean that you replace the OS with Iode.
Does this help, or doesn't it?
For example, it is known that Nokia tries to have a long time of security updates.
See screenshot below of Nokia G10 32GB. This recently (May) introduced smartphone has 2 year updates for Android and 3 years for security updates (last row).
For translation: DeepL Translate: The world's most accurate translator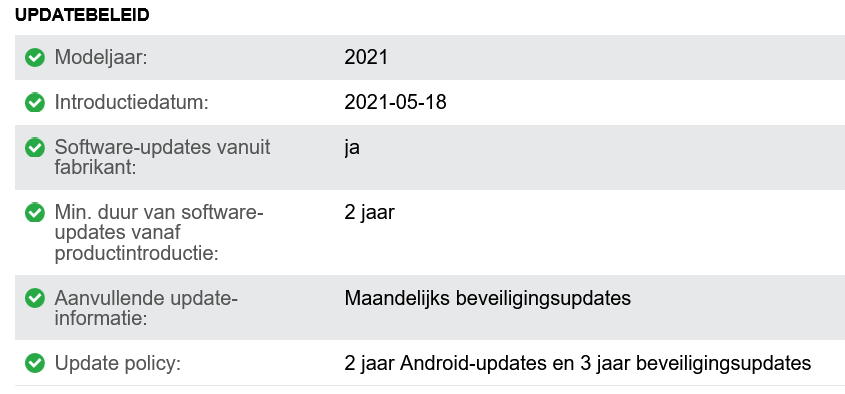 Source:
NOKIA G10 - 32 GB Blauw kopen? | MediaMarkt
And Motorola Moto E20 gives 3 years from moment of introduction.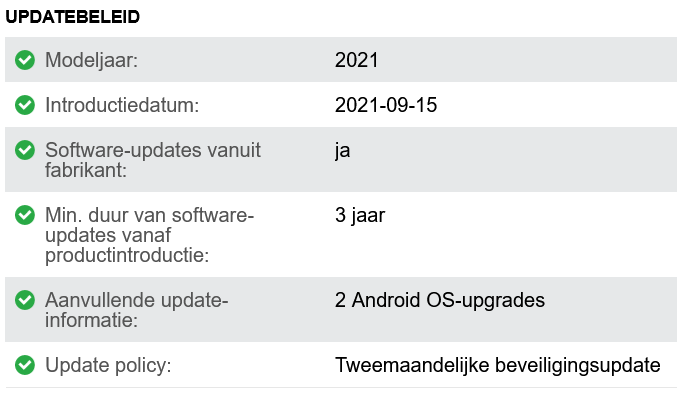 We are, of course, very dependent on LineageOS.
LineageOS dropped security updates of version 15.1 (android 8.1) in september 2021. Except Mi9, all our supported devices run android 11. We can reasonably think, if LineageOS keeps supporting android versions of the 4 previous years, that we will be able to provide security updates for that period of time, after the support of a phone has been dropped (by staying on the last available android version for that device, unless we find enough manpower to upgrade ourselves the device trees to the next android versions).
However: of course the vendor blobs won't be updated, and maybe the kernel, unless we find convenient ways to update it (looking at DivestOS for that purpose).
My Mi 9 is now running crDroid 7.13 Android 11. crDroid Android Project uses LineageOS as its base.
Although I appreciate the work of 'mauronofrio' Recognized Developer, but I no longer use his TWRP cepheus but now TWRP fork SHRP SkyHawk Recovery.
Both software are a well-done duo.
Thank you for your explanation.
It gives me a much better idea of the factors you have to deal with. And also the influences there are and the insecurity there is at some levels where you have to find a solution for (if possible).
My Xiaomi Mi 9 cepheus is back on iodéOS 1.7

I've tried different Custom ROM and Generic System Images (GSI) based on AOSP 11 and AOSP 12.1 (crDroid, ArrowOS, PixelExperience) with different editions of microG (Standard, Minimal microG NoGoolag Edition) as well as GSI's from AndyYan (Lineage-18.1/-19.1), from Phhusson (AOSP 12.1 FLOSS, microG, OTA-Updater) besides LeOS ungoogled GSI with MicroG over several weeks.
Especially the custom ROMs from crDroid and PixelExperience based on Lineage code 18.1/19.1 ran very smoothly. PixelExperience probably builds the most perfect ROM with OGApps.
Well, the experiences made are instructive. Summary: The overall concept and user experience of iodéOS 1.7 (based on Android 10) cannot be topped!
Now the Mi9 runs the build iode-1.7-20220407-cepheus on firmware base MIUI V12.5.2.0.RFAEUXM Stable Official EEA (Android 11) released 26.11.2021. In the past the firmware was based on Android 10 MIUI V12.0.5.0.QFAEUXM. So far I can't register any impairments, although iodéOS 1.7 is based on Android 10, but the firmware is Android 11.
Screenshot
The Xiaomi Mi 9 is still a top Android smartphone: premium Super AMOLED display, fast SoC Qualcomm Snapdragon 855, fast UFS 2.1 internal memory. Self-repair is also surprisingly easy, e.g. a , e.g. battery swap or changing the glass back cover, though not simple. The Mi 9 deserves to be upgraded to a higher iodéOS version.
iodé-Team: Is there a chance to upgrade to iodéOS 2.x or 3 ?
Thanks for your comments


A beta version of iodéOS 3.0 based on Android 12 has already been distributed in the beta testing group, and another one is coming. However for Mi9, a data format will be required. Indeed, the Mi9 historic data encyption method has been deprecated and replaced by the most up-to-date one.
We're sorry by advance for the inconvenience, but it's sometimes the price to pay to use the most recent android versions on old (from the google point of vue) devices.